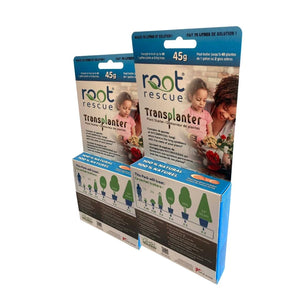 Use Transplanter whenever you plant Trees, Shrubs, Conifers, Perennials Annuals or Food Crops. Transplanter is an OMRI Canada Registered Organic Plant Starter.
Root Rescue products put life back into the soil; restoring and nurturing the natural beneficial soil organisms that plants rely on to find water and nutrients. A healthy soil environment supports plants naturally; reducing or eliminating the need for synthetic fertilizers or chemicals.
Use Root Rescue's Transplanter when you plant new trees, shrubs, conifers, perennials, annuals or food crops. Give them a healthy start – the beneficial soil fungi in Transplanter (a rich consortium of 18 different species of Mycorrhizal fungi) will go to work immediately helping your new plants, and they will stay with your new plant for life. Once and Done.
Transplanter is a wettable powder containing 18 species of Mycorrhizae and bio-stimulants. Easily mixed in water, Transplanter is applied as a drench to the root zone.
Directions for use: Safe and easy to use, Transplanter is recommended whenever you plant new trees, shrubs, evergreens, or perennials. Mixing is simple; add 1 teaspoon of powder to a 2 gallon watering can – fill it up with water. Or for bigger jobs; add 1 tablespoon of powder to a 5 gallon Pail - and you're ready to go. If you leave the solution standing for more than 5 minutes – simply give it a quick stir before applying.