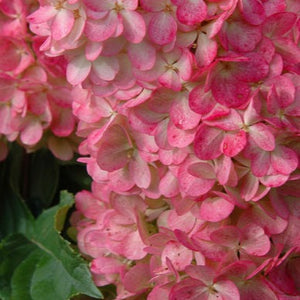 The enormous flower heads are a blend of vanilla and strawberry, held upright on red stems. Flowers emerge creamy white in mid-summer, change to pink as the night temperatures drop and finally turn strawberry red. New blooms emerge as older blooms change color, giving the plant a multicolored effect in late summer and early fall. The red colouring lasts at least 3-4 weeks. Plants grow upright, and then cascade later in the season. Excellent for fresh cut and dried flower arrangements. Flower colour varies based on climate and growing conditions.
EXPOSURE: Full-Partial Sun
BLOOM TIME: Mid-Summer-Fall
SIZE: 6-7' X 5-6'
HARDINESS: Zone 3
Photo courtesy of Bailey Nurseries, Inc.