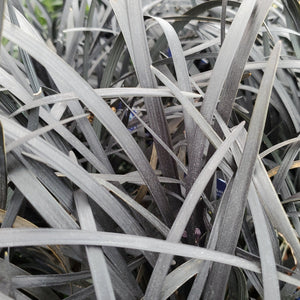 With its nearly jet-black leaves, this makes a most unique specimen for edging or in the rock garden. Short spikes of pale-pink flowers are followed by black berries in the fall. This is a slow plant to establish, so give it time. For best effect, contrast this with yellow or grey-foliaged plants. Prefers a sheltered, partially shaded position. In cold winter regions a light winter mulch of evergreen boughs is recommended. This may also be grown in containers and wintered indoors in a sunny window. Evergreen.

EXPOSURE: Full-Partial Sun
BLOOM TIME: Foliage
SIZE: 4-6" x 8-12" (10-15cm x 20-30cm)
HARDINESS: Zone 6, Treat as an annual in Guelph.