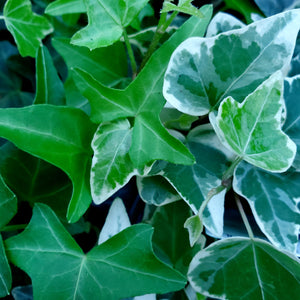 Ivy is one of the most classic houseplants. This is probably because it is easy-to-care for and looks beautiful in pots on shelves, tabletops or hanging. It is available in many beautiful shades of green, as well as, variegated. Ivy also looks beautiful simply on its own or used in container arrangements both indoors and outdoors (for the summer).
LIGHT: High-Low, Keep from direct sunlight. 
WATER: Water when the top inch or so of soil is dry to the touch.