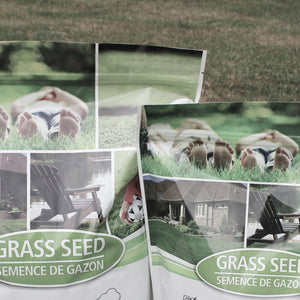 Supreme Feed & Seed
A quality, all-purpose organic fertilizer and seed in one!
Rich in N and P; two primary nutrients essential for turf growth
Highly versatile and easy to use
Ideal for overseeding lawns and restoring bare spots
Ingredients are safe, non-burning sources of plant nutrition
Promotes superior grass seed germination and seedling nutrition
Ingredients:
Top Cut® Organic
Kentucky Bluegrass
Fine Fescue
Turf-Type Perennial Ryegrass
Annual Ryegrass

Seeding Rate: 1KG/250SQ.FT.
Seeding Tips
Overseeding your lawn every year will help thicken and improve the appearance of your lawn and is the best way to fight weeds. 

Seed germinates best when soil temperatures are 17°C (62°F) or higher.
Water seed consistently for 14 days after planting.
Best time to water your lawn is early in the morning.
Avoid puddles of water when watering.
Never allow the soil where the seed is planted to dry out.
Initial growth of the seedlings should take place between 10 and 14 days providing there is adequate moisture and soil temperature is ideal.
Seed cannot germinate without seed to soil contact.
Rake the soil surface before applying seed.
Avoid burying the seed too deeply.
Spread the seed evenly.