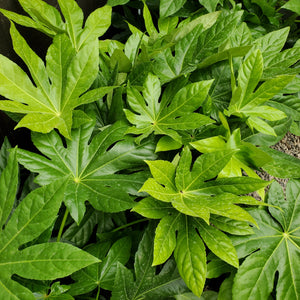 The fatsia japonica, or more commonly known as the Japanese aralia/paper plant is a bold accent for any room in a home. This plant features large leaves that can sometimes measure up to a foot across in mature plants! 
Although the name tells another story, this plant is not actually native to Japan. The Japanese aralia originally came to North America from Europe.
FEATURES: An easy to care for houseplant with large glossy green leaves. These plants can get up to 16 feet outdoors and up to 6 feet indoors.
LIGHT: Medium (Never expose the plant to harsh, direct sun rays as this can bleach and burn the plant).
WATER: Medium (Make sure that the soil never dries out during growing season (Spring/Summer), the regular moisture is essential for the plant).