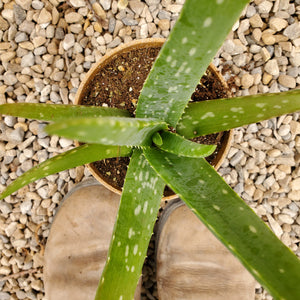 The aloe plant is a classic in house plant lover's collection. The aloe is a traditional healing plant that can be used for juicing. This is a great beginner plant for any new plant parent and can be an excellent addition to any household.
This plant has earned a spot on NASA's clean air study list because it purifies the air of many different chemicals such as formaldehyde and benzene. This plant is a great in a kitchen window space where chemicals like varnishes and detergents are used.
Aloe plants are very useful and have been used for centuries to relieve pain from scrapes and burns. The inside of the aloe leaves has a sticky gel that when applied topically onto the wound can be used for healing purposes.
One of the most common causes of death in Aloe plants is overwatering. Make sure you don't overwater your aloe plant and only water when the top two inches of soil is dry. Water even less in the fall and winter months.
FEATURES: This plant has many long, green, fleshy leaves that spread out of the plant's main stem. Each leaf has small serrated teeth going vertically up the plant. These cute succulents add architectural element to succulent arrangements.
LIGHT: High Light
WATER: Low Water